Sunday, May 17, 2015
I'd like to introduce a new feature in my blog, the "What a world" commentary. It's named in honor of my late mother, who regularly exclaimed this very thing, every time she discovered something new and fabulous in her world. For example, downloadable audiobooks would qualify, or cruise control, or three dollar breasts! I suppose I ought to explain that last...
I've been delighted for the last few years that I can buy a bra for $20 that contains the one part of the whole bra thing that I lack...breasts. This alone might have given me the confidence to enjoy high school, had it been available back in the day. But now, I discovered while exploring this fabulous new sewing pattern, (more later,) I can have breasts for the low, low price of $2.95, or as little as $2.45 if I buy in bulk. "Bulk breasts," you ask? Well, stick with me, friend because the best is yet to come!
So, Wawak Sewing sells sewing notions at a terrific price, and if you just need a single pair of push-up bra cups, it can be yours for only $2.95. If, however, you intend to sew them into multiple garments, or are in the sewing industry, you can choose from an assortment, and on a sliding scale, the price can drop to as low as $2.45 if you want 24 or more. They're really accommodating; you can buy in any color or size available, and the total number you buy in any variety counts. Check this page out:
They also have regular foam cups that don't add volume, inexplicably, for a little more money.
So, on to the pattern. It's by an independent pattern designer named Jennifer Barroso, whose company is called Stitch Upon a Time. The pattern is the Brazi, which makes a sports bra and/or dress, long or short. I've even modified it into a sports top, so I don't have to pull a shirt on over a sports bra. I absolutely love this pattern, and based on the Facebook group dedicated to this pattern company, it is universally adored, (with rare exceptions for the very, very, very most endowed gals who are shorter in stature, I've noticed.)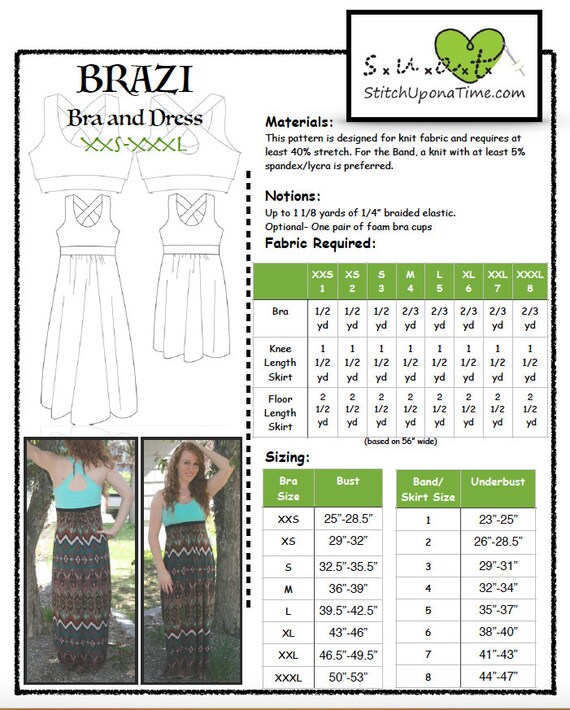 Stay tuned for more bras, sports tops, and dresses. I've got a mad knit stash going!
This one was my first. It's a total failure; note the side boob thing going on there...I need more coverage, and more stretch in the straps. I've got more boob out than in.
ahh, much better. I think I screwed up the back though; I cut the back piece with the wrong edge on the fold. Sometimes our mistakes are so stupid that we are entertained.
I'd love to be able to exercise in a sports bra, but all that belly flab just distracts me and I am drawn to curl up and cover it. So...
I made another sports bra, this time attaching shirt panels below. Phew! Now that I can't see my belly, I might be able to exercise, just a little.
Oh, and while we're making underwear, check out these boxers!!!
The pattern is also Stitch Upon a Time. I highly recommend it.
This top is from Seamworks Magazine's pattern, Aberdeen. I also made it with a rayon jersey grey stripe, which isn't photographed and currently is in the hamper with toothpaste on it. oops.
So, what have YOU been doing?!
Posted by

Ophelia
at 6:54 AM
No comments: